Mueller sells an array of premium sports equipment, including mouthguards, knee supports, training accessories, and more. The Mueller Face Guard is one of the company's more popular products, and it's often used as protective gear for high-performance sports like basketball, soccer, and baseball.
In this article, we take a closer look at the Mueller Basketball Face Guard. Should you wear one at your next basketball game? Let's find out! 
Mueller Basketball Face Guard Brief Overview
The Mueller Face Guard protects the user's face from orbital, nasal, zygomatic, and maxillary injuries. It's made of shatterproof medical-grade polycarbonate and is contoured to fit the face comfortably.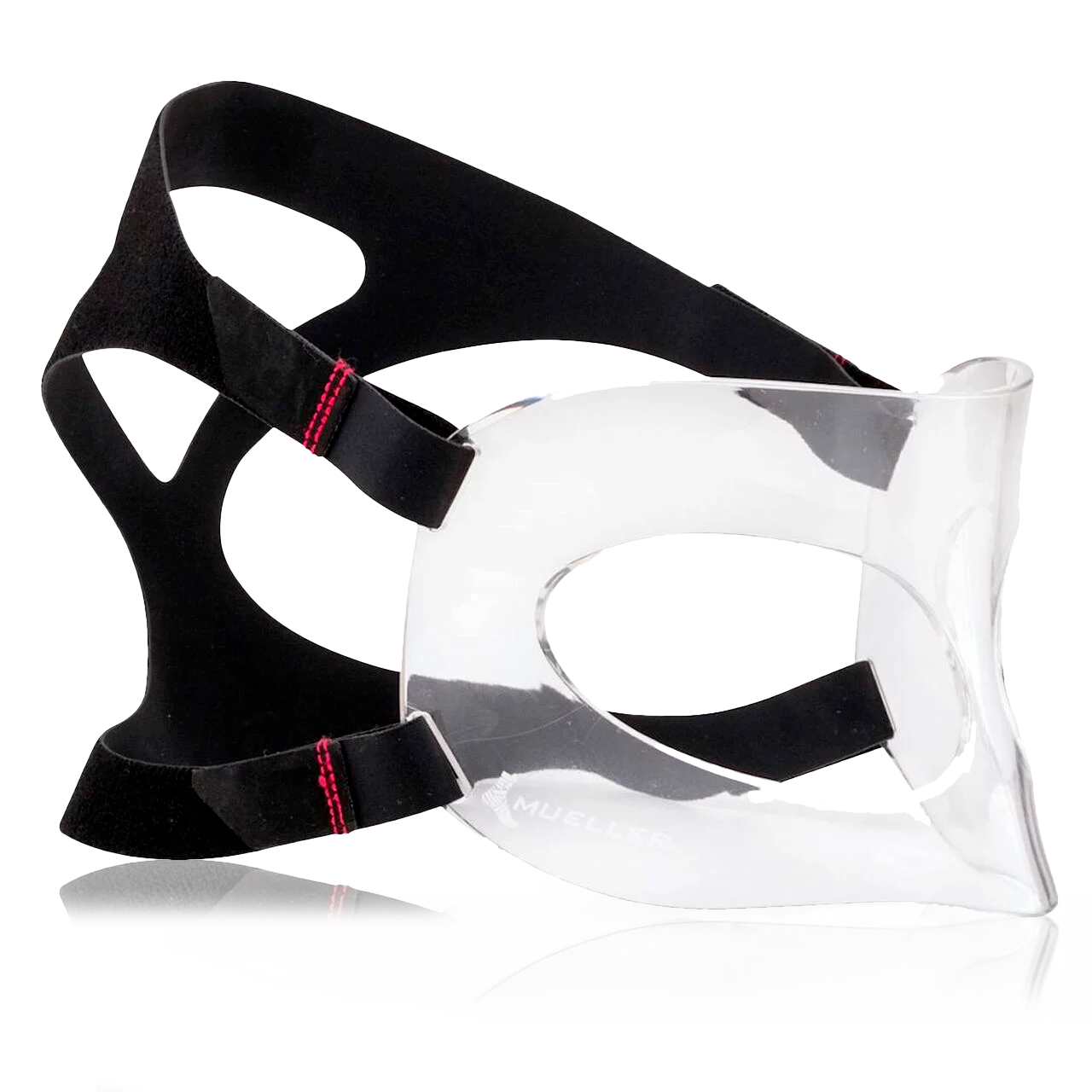 To prevent shifting and accidental removal, it's equipped with a proprietary occipital harness.
Pros
Made with high-quality crack-proof material

 

Comfortable fit
Fully adjustable

 

Contoured design
Cons
Features Worth Mentioning
Here are some of the most notable features of the Mueller Face Guard.
Premium-Grade Material
The Mueller Face Guard is made from medical-grade polycarbonate. Alongside its high-impact resistance, it features a natural UV filter that protects users from the harsh rays of the sun. It's fire-resistant and lightweight, as well.
Contoured Design
The Mueller Face Guard has a one-size-fits-most design. For this reason, it features an anatomically contoured base so it doesn't feel too obtrusive. 
Unfortunately, the Mueller Face Guard doesn't offer much in terms of customization. Therefore, individuals who don't fit the "standard" face mold will have a bit of trouble with the product. 
Secure Fit
Basketball players are constantly on the move, so they need a secure-fitting faceguard that won't slip off or wobble every time they jump or run. In this aspect, the Mueller Face Guard performs fantastically. 
The occipital harness it's equipped with secures the face tightly without it being too suffocating. It's fully adjustable, too, so you can tighten or loosen the harness as you see fit. 
For your increased comfort, the company included additional foam padding to reduce the risk of reinjury.
Impact Protection
Perhaps the most crucial factor of basketball face shields is their ability to protect the wearer from high-impact strikes. Luckily, the Mueller Face Guard doesn't disappoint in terms of impact protection. 
As discussed, this faceguard is made from shatterproof polycarbonate—one of the most durable plastic materials in the world. But that's not all. It's designed in a way that broadly disperses energy upon impact.
Improved Clarity
Unlike most face shields, the Mueller Face Shield doesn't reduce peripheral clarity. It doesn't distort or warp the surroundings, protecting users from accidental impact. It doesn't fog up, either. 
With that said, the Mueller Face Shield doesn't prevent sweat from entering the mask and into your eyes, which hampers visibility a fair bit. It would've been nice if it had some sort of sweat protection design that prevents it from dripping into the mask.
Mueller Face Guard vs. Aurafix Nose Guard Mask
The Mueller Face Guard and the Aurafix Nose Guard have one glaring difference: the latter is designed to protect the majority of the face while the former only protects the nose. 
At first glance, the Aurafix Nose Guard Mask seems uncomfortable. However, it's actually fairly unobtrusive. It's lined with a soft terry cloth pad that protects the nose from trauma and injury. 
Like the Mueller, the Aurafix Nose Guard features a proprietary occipital harness that secures the nose guards to the face. The harness prevents the nose guard from shifting while you're running and jumping.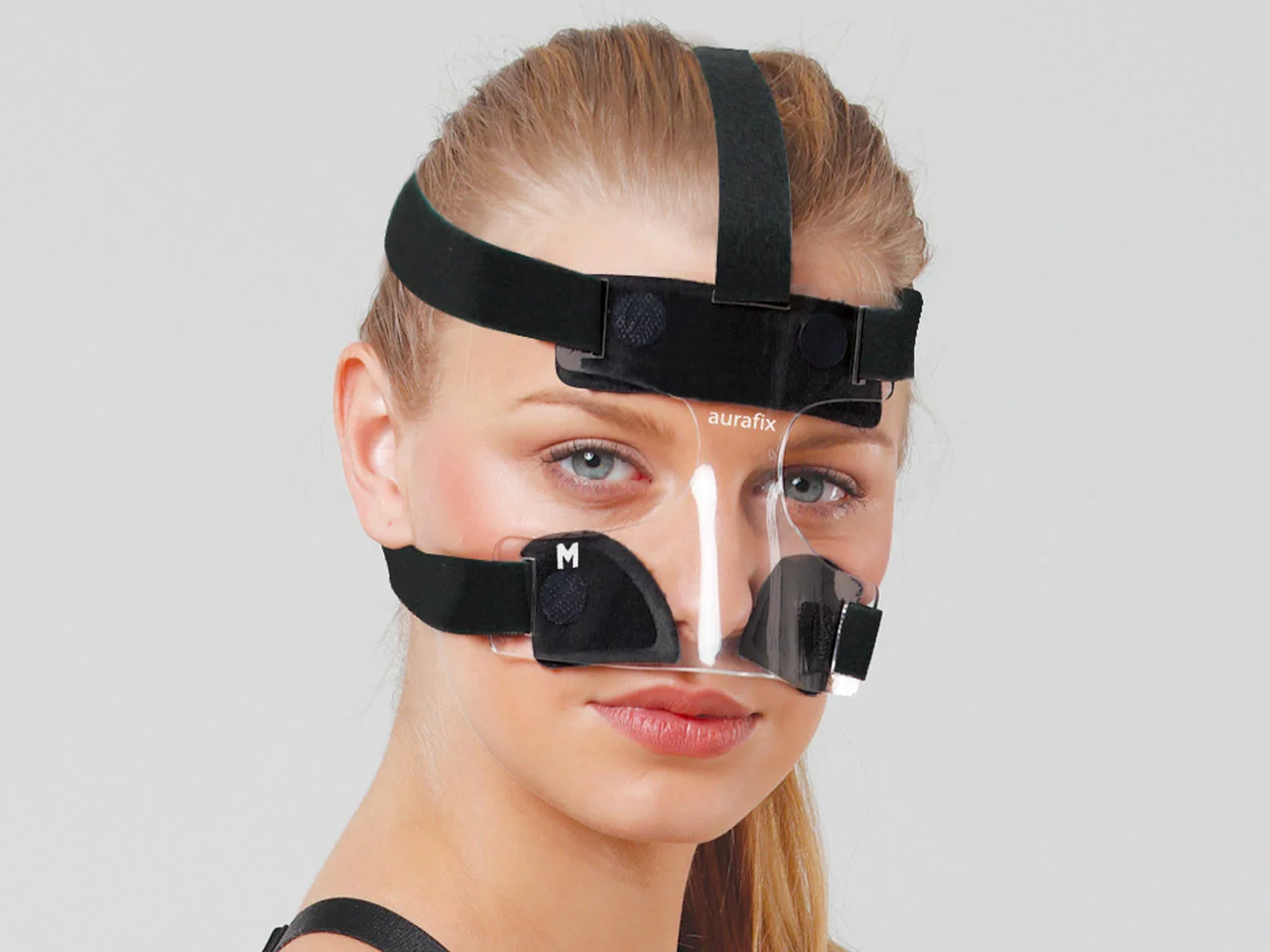 The Aurafix comes in three size options, Small, Medium, and Large, ranging from 21 to 24 inches. 
If you're not comfortable wearing a face mask, the Aurafix is a fantastic alternative.
Conclusion
The Mueller Face Guard is an exceptional safety gear for basketball players. It protects players from swinging elbows, ball impacts, and other hits that concern the face. It fits most face structures and is fully adjustable. 
If you tend to injure your nose during basketball games a lot, or simply want to protect it from future injuries, the Mueller Face Guard is definitely worth getting.
For a more in-depth guide on how to choose the best basketball face mask read this other article.