The purpose of a basketball face mask is to protect the face of a player while playing, not unlike a hockey mask in some regards.
This is a vital part of the game, as players often collide with one another, fall on the floor for loose balls, and dive into the stands to prevent turnovers.
A basketball mask can help protect a player's face during a game, particularly if they're playing against an opponent who likes to box out or get physical. Players who have experienced facial injuries or who are leery of getting them can benefit from using a face mask.
Face masks can prevent initial damage and help to protect injured areas, such as noses from further damage. Face masks have been used in the NBA for decades and have become a staple in many professional and youth sports leagues.
A Brief History of the Basketball Face Mask
Originally designed for the bruising Bill Laimbeer in the early '90s, it was later modified for other players, including Kobe Bryant, and has become a standard form of protection in the NBA and many other basketball leagues.
The history of basketball masks is fascinating, as you'll find a variety of different kinds on the market. While one size fits all masks may be appropriate for beginners, they may not be suitable for a professional player.
The Importance of Basketball Face Masks
A basketball mask can protect the entire face and is crucial for preventing facial injuries. Because of the high amount of elbow swinging, running, jumping, and passing the ball, players are more likely to suffer a broken nose than any other injury.
A basketball mask must be adjusted to fit the player's face, so it will be comfortable and prevent shifting while playing. A good model will offer a perfect fit to prevent irritation and ensure protection. One of the best models for this is the Mueller Face Guard(see our full review here) with its comfortable liner pads that conform to any face shape.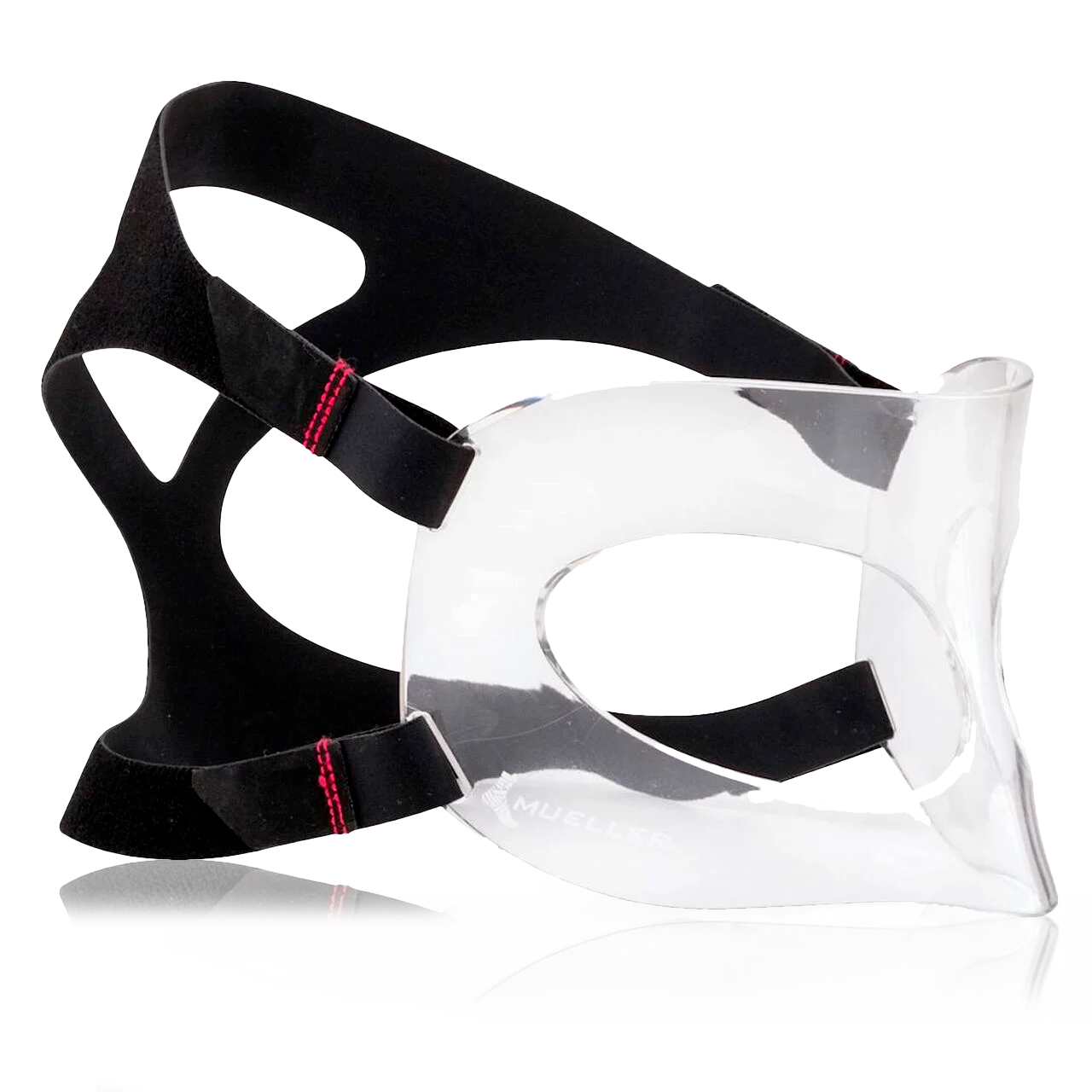 A basketball mask is both protective and eye-catching. The face-shaped mesh opening is designed to allow a wide range of face and mouth movement. A basketball mask should fit properly and feel comfortable on the face, allowing the player to play their game without any discomfort.
By wearing a basketball mask post-injury, the player will remain more in the zone as the added protection provides peace of mind about any further injury. Protective masks also help speed the healing process. 
Many masks have been medically tested and recommended for those who have fractured their noses or suffered other facial injuries. However, a basketball mask is not always a perfect solution for every injury and one should always consult with a physician or medical professional for their recommendations.
A well-fitted basketball mask should be lightweight and comfortable to wear. It should not restrict the athlete's vision or cause them any pain. Furthermore, a good mask will provide adequate airflow to keep you cool in game time situations like the QianCheng Nose Guard Face Shield.
While face masks are especially useful in preventing broken noses they can also benefit your eyesight as well. Basketball face masks keep flailing hands out of your eyes and prevent in-game eye irritation and injury.
Molded basketball masks like the Aurafix face mask are proven to prevent facial fractures and injuries. The Aurafix face mask is an excellent choice for athletes who need the maximum protection possible. The head pads of the Aurafix face mask absorb impacts and prevent a broken nose. The Aurafix face mask has also been designed to be flexible, which helps it fit a wide range of players.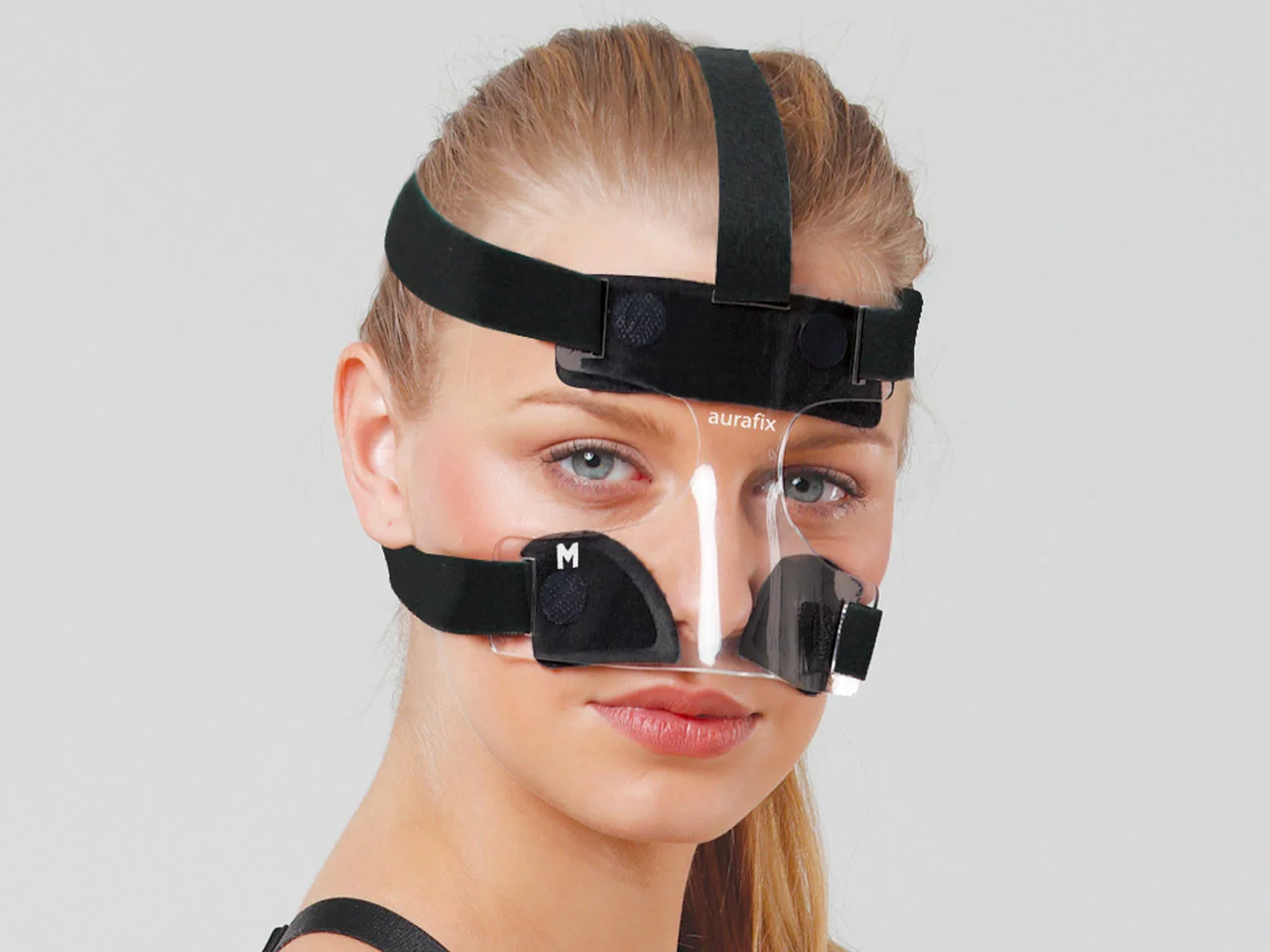 Look for elastic bands on the back-side of masks made from at least two layers of 100% cotton blend, which will make it soft and comfortable. An excellent example of this is the Outgeek Clear Face Guard. It features two straps up top and one on each side for a perfect fit.
And last but not least…Masks have the added benefit of being aesthetically pleasing. They can be a statement piece that screams punisher, making the mask an essential accessory for tough, physical players. This is how you show other players you like to post up without actually telling them.