Skiing and snowboarding are winter sports that are enjoyed by millions of people worldwide. The gear that skiers and snowboarders wear can make a big difference in their experience, and one of the most critical pieces of gear are snow goggles.
The latest technology in skiing and snowboarding goggles has made them more comfortable, stylish, and functional than ever before.
Lenses
Many of the advances made in snow goggle technology have been made to the lenses themselves.
Polarized Lenses
The use of polarized lenses improves contrast, aids visibility, and stabilizes color. Polarized lenses are designed to reduce glare and provide better visibility in bright sunlight.
They work by blocking certain types of light waves and allowing others to pass through. This technology has become increasingly popular among skiers and snowboarders, and it's now included in many of the latest goggles on the market.
Photochromic Lenses
In addition to polarized lenses, photochromic lenses automatically adjust to changing light conditions, ensuring optimal visibility no matter the weather.
These lenses darken when exposed to ultraviolet (UV) light and return to their clear state when the UV light is removed. They use light-sensitive molecules that activate in response to UV radiation and provide convenient, clear vision in various light conditions. They are also known as transition lenses or variable tint lenses.
Spherical Lenses
Spherical lenses in snow goggles are lenses that are curved in two directions, both vertically and horizontally. They help to provide clear and distortion-free vision, correcting issues such as spherical aberrations which occur when light rays pass through a lens and focus on different points.
These lenses more closely mimic the shape of the human eye, providing a wider field of view and reduced distortion. Spherical lenses are ideal for snow goggles as they offer a wider field of view, improved peripheral vision, and reduce glare, making them perfect for winter sports.
Interchangeable Lenses
Another improvement in ski and snowboard goggles technology is the use of interchangeable lenses. Interchangeable lenses allow skiers and snowboarders to switch out their lenses depending on the weather conditions. For example, a skier or snowboarder could use a yellow lens for cloudy days and a clear lens for sunny days.
This technology provides skiers and snowboarders with the flexibility to adapt to changing weather conditions, which is especially useful for those who spend long days on the slopes.
Ventilation Systems
The latest technology in air ventilation for snow goggles includes advanced ventilation systems that effectively prevent lens fogging and improve air flow. One such technology is Active Ventilation. This technology uses fans or batteries to actively circulate air and prevent fogging.
Thermal Lens Venting involves the use of special foam padding that acts as a thermal barrier between the lens and the face, allowing hot air to escape and cold air to circulate. Triple Layer Foam is standard on most goggles but it's a great technology that uses a three-layer foam system that provides insulation while also allowing air to circulate, effectively reducing lens fogging.
And finally, there's RAM Air. RAM Air involves the use of a special channel that directs air into the goggle, reducing lens fogging and increasing the comfort of the wearer.
Smart Features
One of the most significant advancements in ski and snowboard goggles technology is the use of smart features. Smart goggles use Bluetooth technology to connect to a skier or snowboarder's smartphone and provide a variety of features such as music control, GPS navigation, and even the ability to make phone calls.
This technology not only provides skiers and snowboarders with more convenience, but it also helps them stay safe on the slopes by allowing them to stay connected to their friends and family.
Comfort & Fit
Finally, ski and snowboard goggles have also improved in terms of comfort and fit. New materials and designs have made goggles more comfortable to wear for long periods and more secure on a skier or snowboarder's face. Some goggles even have adjustable straps, so skiers and snowboarders can get a custom fit that is perfect for them.
Foam padding on goggles now fits to the face better than ever before. This padding is usually tripled up to provide ultimate comfort, reduce fog and provide excellent absorbency.
Silicone straps or hybrid straps with silicone linings help with grip and to keep masks in place. Many are highly adjustable for a perfect fit. Some feature quick release technology so you can get in and out of your goggles with a breeze.
The Future
What future advancements could be made to improve snow goggles? Perhaps one day we may have OLED pop-up displays with viewability right inside the goggle. With this augmented reality could be an option to help improve our natural experience or even make skiing more fun for kids. Advances in AI and machine learning may one day make it possible to provide real-time course analysis to the skier or snowboarder leading to improved run times and greater safety.
Reviews
The following snow goggles embrace the latest technologies to deliver the best in comfort and vision. See six of our top picks below.
The Oakley Flight Deck Snow Goggles are engineered for seamless
compatibility meaning that these goggles will work with most helmets. The patented Ridgelock technology makes lense changes quick and painless while also preventing debris from entering your mask. Oakley's Prizm lens options are available on the Oakley Flight Deck Goggles.
These goggles feature a 5mm wide strap with silicone lining for a more secure fit and so these goggles stay where you need them to. The Flexible O Matter chassis conforms to your face even in extreme cold. Rimless frame design increases your visibility on the slopes. Cozy triple-layer face foam features a sweat wicking polar fleece lining to improve comfort.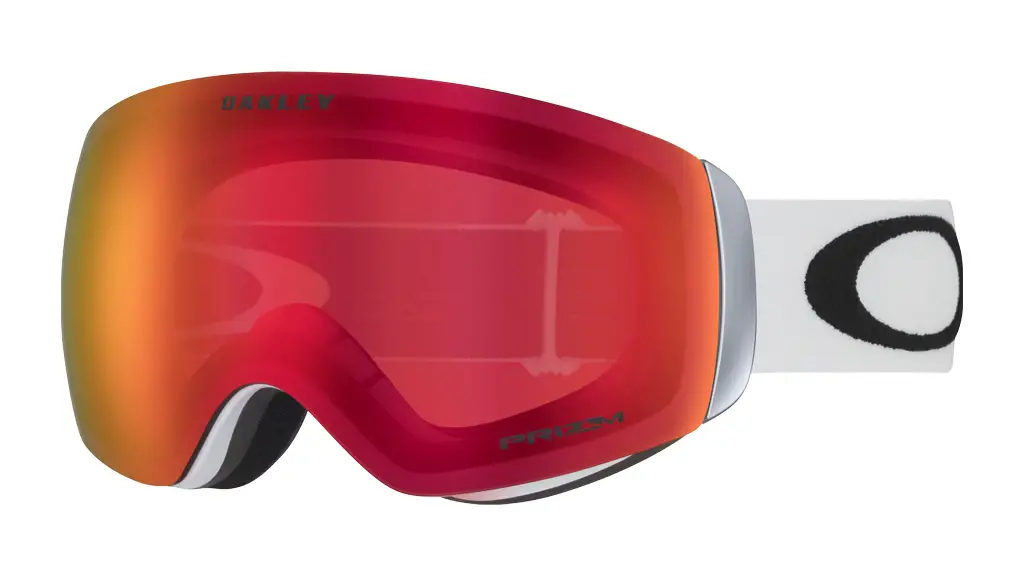 The Plutonite injection-molded lenses protect against UVA, UVB, and UVC. They also block blue light down to 400nm and are impact resistant. An optional Iridium lens coating is available to help tune light transmission and reduce glare.
Perhaps the most unique feature of the Oakley Flight Deck Snow Goggles are the discreet notches at the temples. These notches allow compatibility with most prescription eyewear.
The Smith I/O7 Snow Goggles offer a widescreen view to help you take in nature atop some of the world's best ski mountains due to its spherical lens. The frameless design offers unobstructed views. The pairing of ChromaPop lenses improves contrast and boosts color to help you take the terrain in.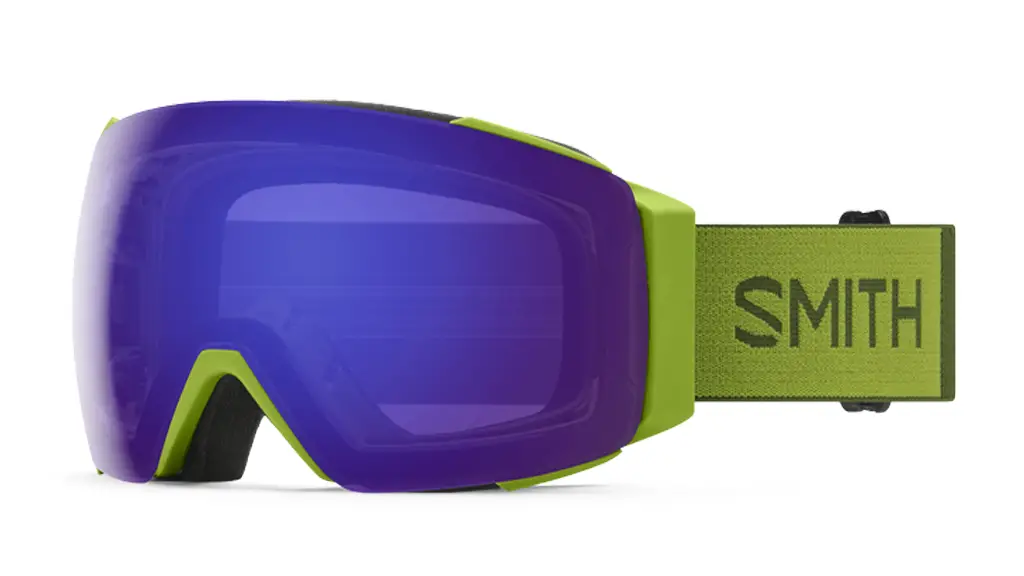 Fogging isn't an issue for the Smith I/O7 Snow Goggles. The ChromaPop lenses receive the highest level of anti-fog treatment. They integrate seamlessly with Smith helmets to ensure fogging doesn't occur and to provide sharp views in all weather conditions. The quick release lens system allows you to match lenses to any conditions.
The QuickFit strap system makes adjusting super easy. You can adjust
on-the-fly or loosen easily after a run. The strap features a silicon
backing to ensure these goggles stay put. Three layers of DriWix face foam helps wick moisture, prevent fog, and ensure ultimate comfort. A low bridge fit is optional and the ResponsiveFit frames adjust to your face for the perfect fit.
The Anon M3 Snow Goggles feature MFI or Magnetic Facemask Integration and literally makes switching lenses a snap. Cylindrical lens technology offers wall-to-wall, panoramic vision and improved clarity.
The Anon M3 Snow Goggle frames are constructed with lightweight
thermoplastic polyurethane (TPU) and offer the highest protection from abrasion. This material reacts positively to changing temperature conditions and is flexible enough to fit any face shape.
Plush, ultra-thin foam produces a much closer fit. This allows the Anon M3 Snow Goggle to fit right up against the face eliminating peripheral vision impairment. This produces the best course views imaginable.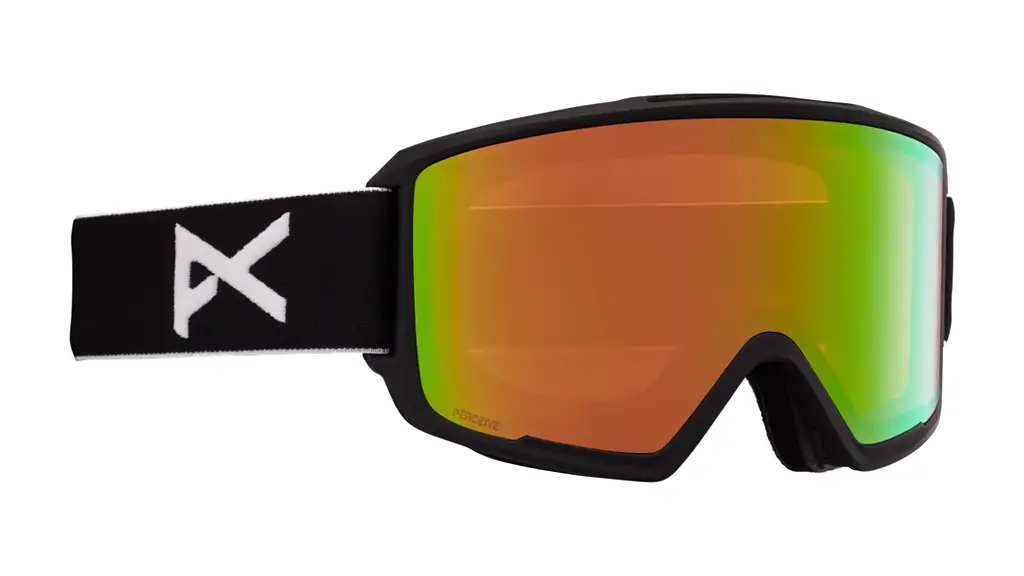 A porous cellulose inner lens surface provides the ultimate in anti-fog
capabilities. Paired with full perimeter channel venting these lenses offer the best protection against fog and also the perfect amount of airflow.
The Anon M3 Snow Goggles feature a silicone strap that stays in place. Outlast fog management face fleece not only feels great against the skin but also aids in reducing fog. This proprietary foam stores and releases heat proactively to help keep you climate controlled. The best defense against sweat is prevention. The Outlast face fleece excels in this area.
Want a top-performing pair of skiing or snowboarding goggles? The Bolle Mojo Snow Goggles are it. These goggles offer excellent lens technology, comfort, and style. The wide, panoramic-style lenses provide a distortion-free and clear view, while the anti-fog technology ensures your vision stays unobstructed.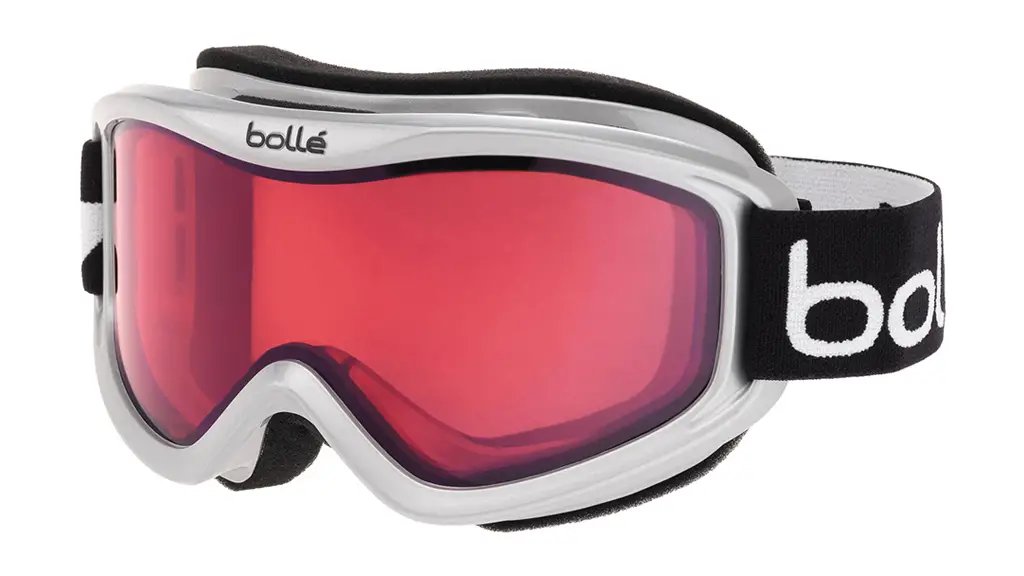 Triple-layer foam provides comfort and security, and the adjustable strap allows for a customizable fit. The lenses are interchangeable making these great for many different weather and course conditions. The minimalist design of the Bolle Mojo Snow Goggles is stylish and eye-catching, and they come in a variety of colors to match any skiing or snowboarding outfit.
In conclusion, the Bolle Mojo Snow Goggles are a great choice for anyone looking for a stylish and functional pair of skiing or snowboarding goggles.
The Smith Sequence OTG Snow Goggles are designed for those who wear glasses and want a comfortable and functional pair of skiing or snowboarding goggles. These goggles feature a spacious design that accommodates most prescription glasses, and the comfortable triple-layer foam provides a secure and snug fit.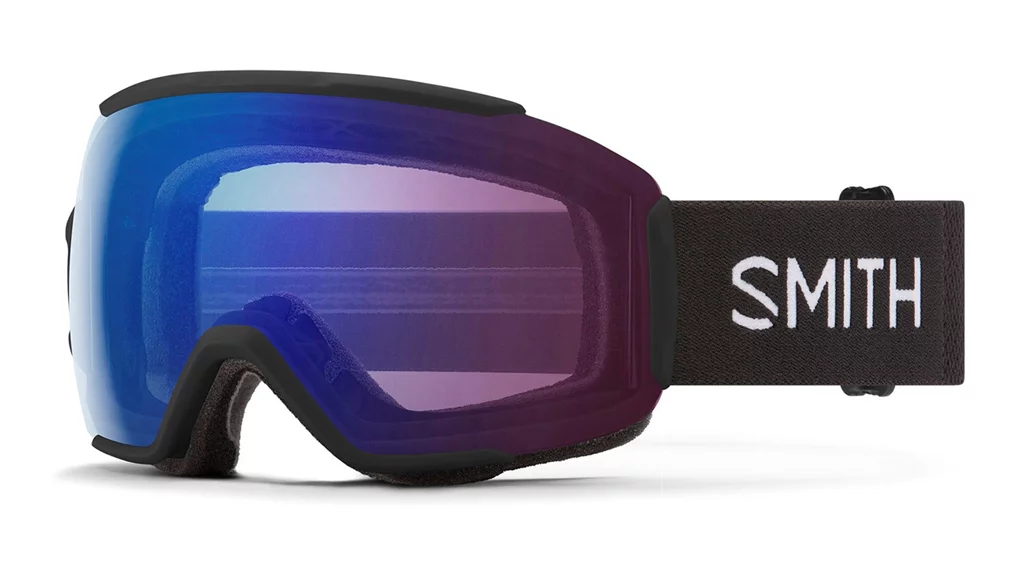 The lens technology is top-notch, with anti-fog technology to prevent lens fogging and a spherical lens design that provides a clear and
distortion-free view. The interchangeable lens system allows you to switch out lenses depending on the weather conditions, and the adjustable strap allows for a customizable fit.
In terms of style, the Smith Sequence OTG Snow Goggles feature a sleek and modern design, with a variety of colors to choose from. Overall, the Smith Sequence OTG Snow Goggles are a great choice for those who wear glasses and want a comfortable and functional pair of
skiing or snowboarding goggles.
The Oakley Line Miner Snow Goggles offer exceptional peripheral vision with its cylindrical lens shape. These goggles sit closer to the face than most on the market allowing for incredible downward and side-to-sider periphery vision.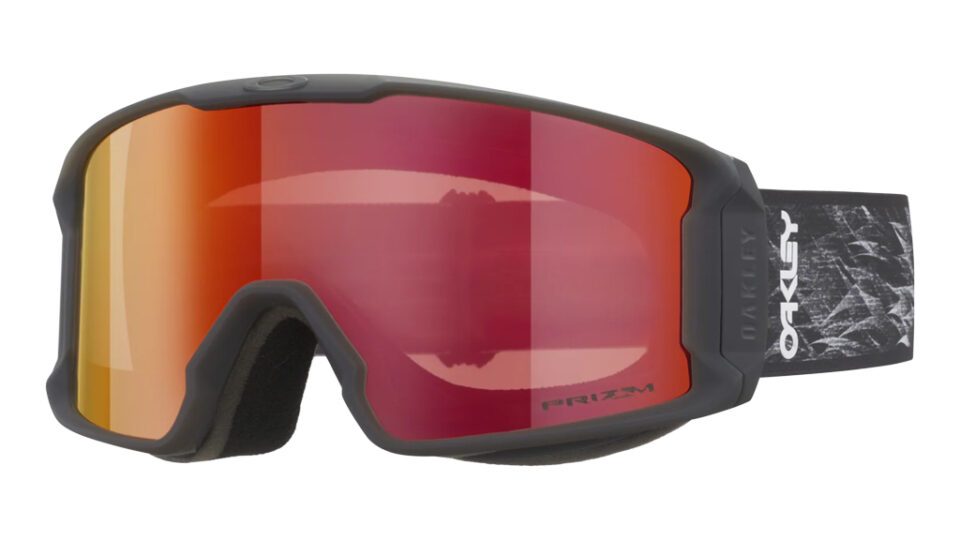 Oakley's Prizm lense technology is available on the Line Miner Snow Goggles. Unnoticeable notches around the temples allow flexibility for those that wear prescription eyewear.
The low-profile frame design increases visibility and comfort while the
silicone strap helps these goggles stay in place. Triple layer, ultra-thin
foam wicks moisture and provides plush comfort.
The Oakley Line Miner lenses feature thick anti-fog coating and protects against UVA, UVB and UVC light rays. The lenses are optically correct meaning you see everything that you should. In addition, glare reduction and attenuated light transmission help you see the slopes perfectly. Impact resistance keeps you in the action for a long time.
The Julbo Aerospace Snow Goggles are a great choice for skiers and
snowboarders who demand performance and comfort. These goggles feature a wide field of view, thanks to their cylindrical lens design. The lenses are also treated with anti-fog and anti-scratch coatings to ensure clear vision in all conditions.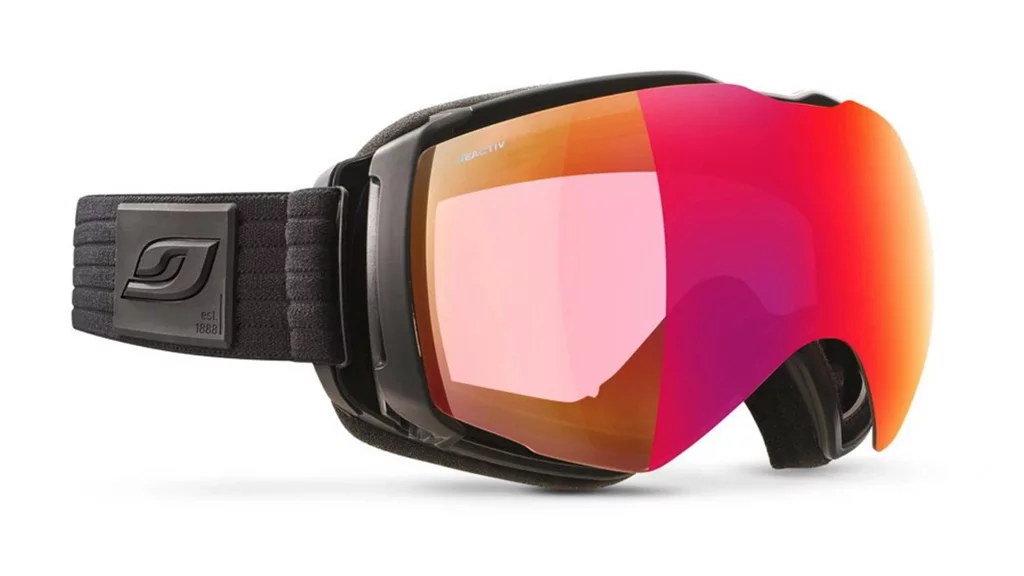 The Aerospace goggles feature a comfortable and adjustable strap, which helps to keep the goggles in place even during fast descents. The foam padding is soft and comfortable against the face, and the goggles are also ventilated to prevent fogging.
One of the standout features of the Aerospace goggles is their
interchangeable lens system, which allows users to quickly and easily switch out lenses to adapt to changing light conditions. The lenses are also photochromic, meaning they automatically adjust to the brightness of the surroundings.
In terms of build quality, the Aerospace goggles are top-notch. They are made from durable materials and feel solid in the hand. They also come with a sturdy protective case, making them easy to transport.
Overall, the Julbo Aerospace Snow Goggles are an excellent choice for anyone who wants a high-performance pair of goggles that are comfortable and versatile. They offer excellent vision and protection, and their interchangeable lens system makes them an excellent choice for a wide range of weather conditions.