Gaming, and gaming glasses for that matter; are words that didn't exist a few decades ago, and are now common words amongst teenagers and adults alike. 
We now have esports, gaming tournaments with prize pools that exceed expectations. League of Legends, a popular PC game, had almost 500,000 USD as a prize for its winning team last year!
For gamers who need to compete in such massive tournaments, thousands of practice hours are needed. Some gamers on Steam (a PC gaming client) have over 12,000 hours on some games.
With such a ridiculous amount of hours spent in front of screens, eye safety becomes a major concern, and this is where gaming glasses come into play.
This article will tell you why you need gaming glasses, and guide you through four of the best gaming glasses available in the market right now.
What to Look for When Buying Gaming Glasses
There are four main things you want your gaming glasses to offer:
Reduce Eye Strain
The most important aspect of gaming glasses is to reduce eye strain. This is done by reducing the amount of blue light that screens emit. 
This blue light is the main reason for eye strain and headaches associated with prolonged periods of looking at a screen. Some newer phones now have the option of turning yellowish at night to reduce blue light.
The less blue light received by your eyes, the more you can game without eye fatigue.
Reduce Headache and Improve Sleep
The constant eye strain might not bother you in the beginning. However, time after time, you'd start experiencing unexplained headaches before and after sleeping.
If the gaming glasses don't fix this issue, then they're not reducing enough blue light from reaching your eyes.
Comfortable With Headphones
People who wear normal glasses hate wearing headphones. Regardless of how ergonomic the headphone's design is, there's still some discomfort associated with prolonged gaming sessions.
This is why you should pay attention to the design of the gaming glasses' temple. They should be slightly elevated to avoid being pressured by the headphones.
Additionally, a good pair of gaming glasses should have an adjustable strap for maximum comfort while wearing a headset. 
Good Visibility
Last but not least, the lenses should be wide enough to not constrict your vision while still looking like a good pair of glasses.
Our Gaming Glasses Recommendations 
Here's our list of top four gaming glasses. For each pair of glasses, we'll see if it checks our four requirements. 
Gunnar lightning bolt is one of the finest gaming glasses based on reviews. It comes with a temple pack of three choices, three sizes of nose bridges, two types of lenses, and a 12-month warranty.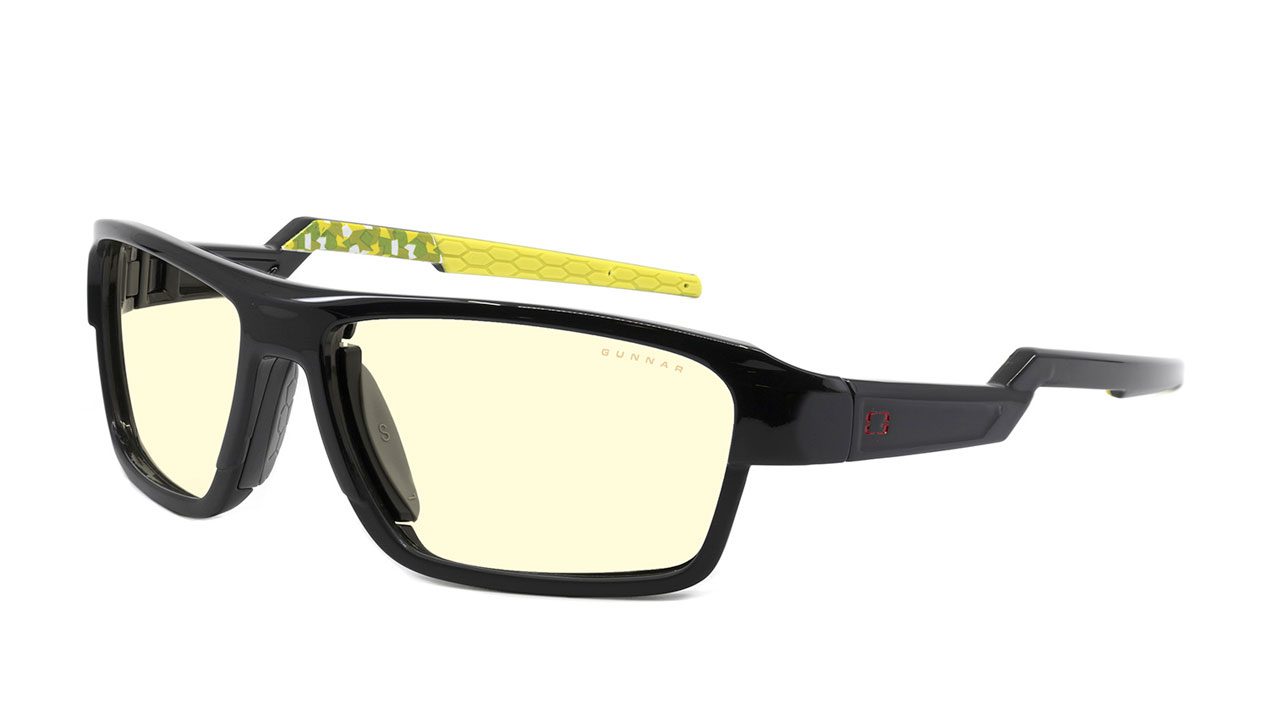 These gaming glasses are designed with heavy emphasis on comfort under headsets. You can switch between the three different temples (standard, slim, and strap) as you find comfortable.
The lenses are almost 60 mm wide, offering good visibility. They also reduce the blue light by 65% and UV light by 100%, making gaming sessions more comfortable.
In short, we can summarize the pros and cons of Gunnar lightning bolt as follows:
Pros
Extremely comfortable under headphones
Various accessories
Great build quality
Cons
Lens tint is a little too heavy
The Gunnar Intercepts are like the younger, more cost-efficient version of the Lightningbolts. They offer the same build quality, blue light reduction, and 12-month warranty.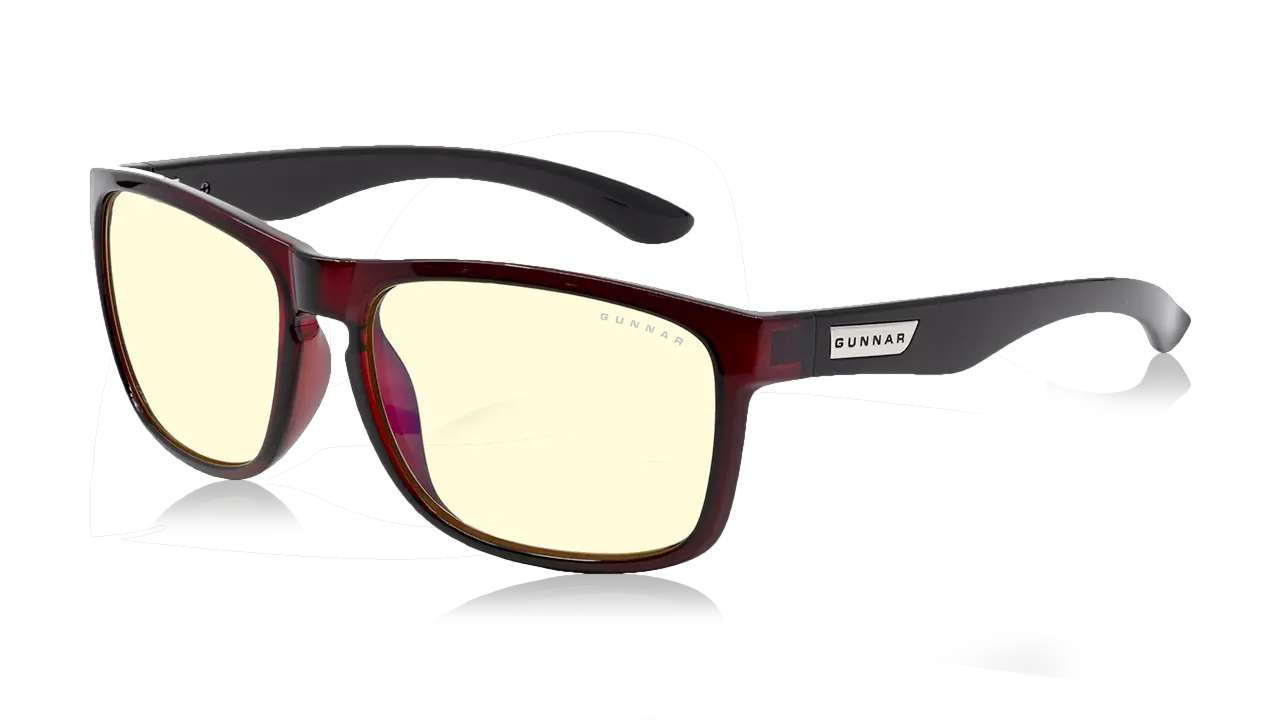 With the reduction in price, comes a few compromises. Gunnar intercepts have fewer accessories than the Lightningbolts, and they're not built with headphones comfort in mind. 
Nevertheless, they're still very effective when it comes to blue light blocking and lens wideness. They have the same lens manufacturer, after all.
We can summarize the pros and cons of Gunnar intercept as follows:
Pros
Good build quality for a fair price
Anti-scratch silicon-coated lenses
Anti-reflective lenses
Cons
Oakley is considered a benchmark when it comes to optics. With superior build quality and comfort, gamers would simply forget them on their eyes.
Oakley Metalink is originally a normal pair of glasses. However, adding PRIZM gaming lenses instead of the normal lenses instantly transforms them into gaming glasses.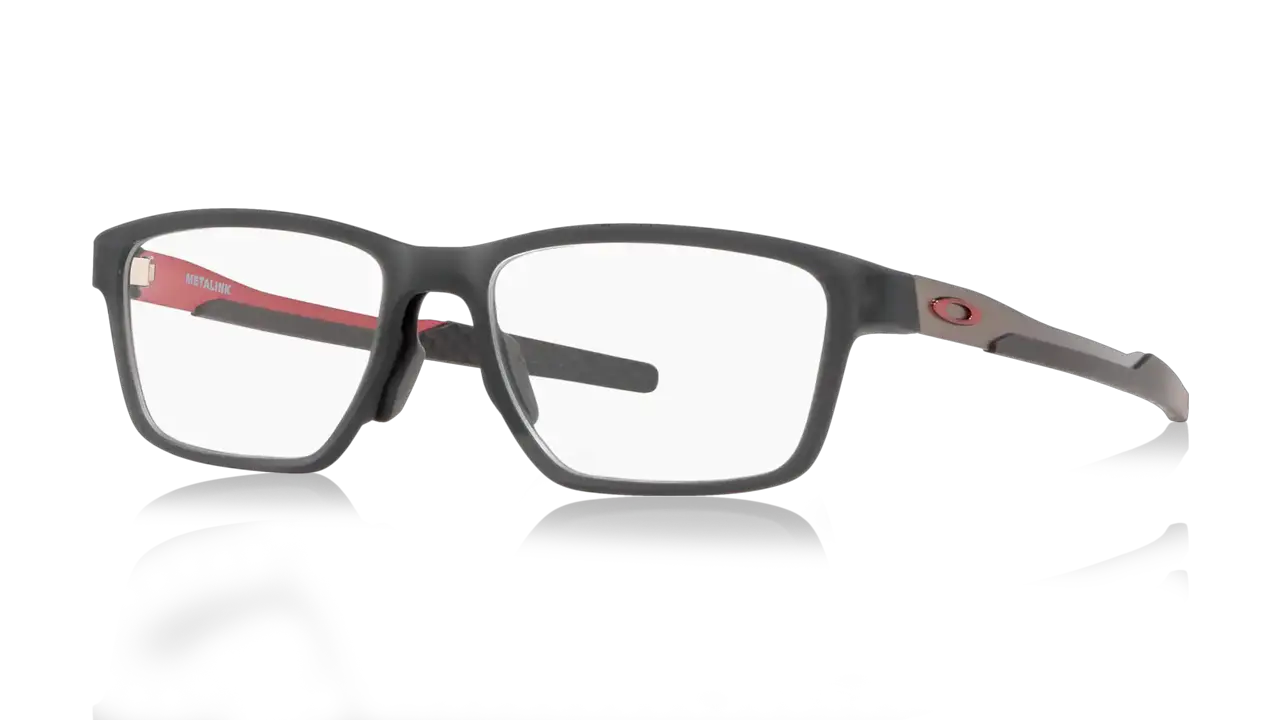 When prism gaming lenses are on, you'll enjoy a high contrast vision with a 40% reduction in blue light and a 90% reduction in UV light.
Quality-wise, there's simply no question that it tops most other glasses on the market.
We can summarize the pros and cons of Oakley Metalink as follows:
Pros
Superior build quality
Sleek and comfortable design
High strength hinges
Cons
Gamer Advantage Inferno has an advantage that you don't find in other gaming glasses: its lenses are clear. They don't have that yellowish hue.
In order for most gaming glasses to block blue light, they have bright yellow lenses. The yellow shade doesn't distort the color too much but it still doesn't show you the true color.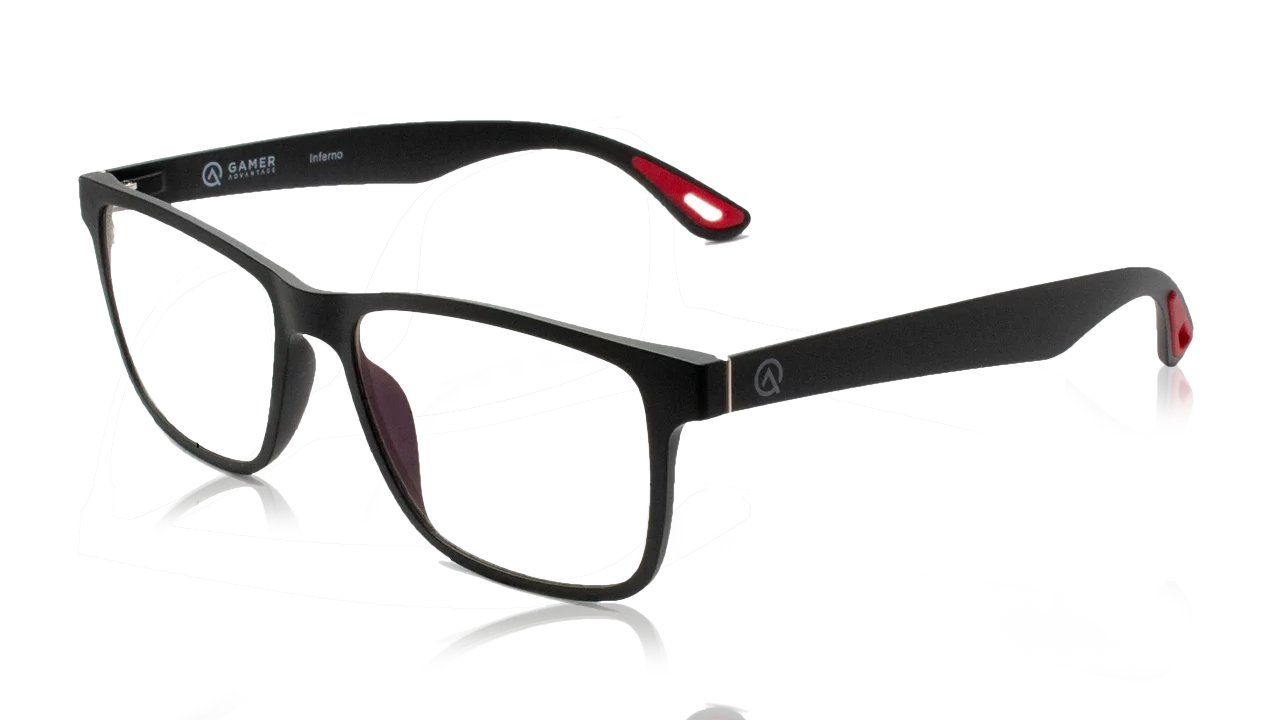 However, Gamer Advantage Inferno used a different technology to remove that yellow hue while still maintaining the blue light blocking.
Additionally, the frame temples are very thin. This helps to reduce the pressure applied by gaming headsets, which in turn reduces headaches.
The pros and cons of Gamer Advantage Inferno are as follows:
Pros
Colorless vision
Lots of accessories
Anti-glare lenses
Cons
Final Thoughts
Those were our top four picks for the best gaming glasses today. All four of them do exactly as advertised; they reduce eye strain and blue light effect, which in return reduces headaches and improves sleep.
Keep in mind that these glasses may prolong gaming sessions, but they won't keep you playing infinitely. They do reduce the blue light by up to 65%, but there's still 35% of blue light that goes in eventually. This can and will affect you in the long run. 
It's important to set expectations correctly before purchasing them. That said, they truly change the gaming experience and they're even prescribed by doctors sometimes.
Don't forget; many frames can have blue light blocking lenses added to them in both prescription and non-prescription formats. View some of our other glasses reviews here.