Everyone says you need polarized sunglasses when you're fishing, but do they help? 
Fishing trips are usually conducted during the day when the glare is high. Glare is the entry of excess light into our eyes. This glare can cause a disturbance in vision. Additionally, glare can cause eye strain and headaches. 
This is where polarized lenses play a role of great importance, as they reduce most of this glare by cutting off horizontal light. This helps reduce eye strain and vision disturbances. 
That said, let's talk about the detailed benefits of using polarized fishing sunglasses and review some of the best polarized sunglasses for fishing on the market. 
Why You Should Use Polarized Sunglasses
Most polarized lenses have a very clever design as they consist of a chemical compound made up of molecules that run parallel to each other.
Said compounds create a microscopic filter that absorbs whatever light falls onto the lenses. All of the light that goes into this horizontal plane, glare included, will be cut off.
All of this, in turn, reduces squinting, eye strain, and the chance of headaches.
Also, when the glare is cut off from the water's surface, thanks to the polarized glasses, you will be able to see through the water, which will make your fishing easier. 
Besides, polarized fishing sunglasses can help improve contrast, making it a little easier for you to identify smaller details, which in turn helps you in spotting and tracking fish.
The 4 Best Polarized Sunglasses for Fishing
Now that you know the benefits of wearing polarized sunglasses while fishing, let's take a look at some of the best options on the market.
The Costa Blackfin Pro glasses are made of bio-resin nylon frame material. This material is so light that you'll forget you're even wearing glasses. Despite its lightness, the frame is incredibly durable, adjustable, and flexible.
As for the grip, these sunglasses sport the Hydra Light grip, which is a non-slip, hypoallergenic, and sweat-resistant grip. This grip makes the frame versatile and usable in any activity. There's also a grip on the nose bridge.  
The nose pad and nose bridge are highly customizable, allowing for a more comfortable fit on your nose.
The Costa Blackfin Pro glass isn't just perfect for fishing, but also for boating, hiking, and just about any outdoor activity. 
Pros:
Excellent field of view
Features sweat channels that help direct moisture
Sturdy and lightweight construction
Fully adjustable nose pad and nose bridge
Cons:
The frame is considered thin compared to previous models
The Costa Broadbill Sunglasses are made of a durable and robust material that ensures durability. Also, the glasses feature Benton nose pads that aid in controlling airflow, so you don't have to worry about fogging up your glasses or sweating excessively. 
Similar to the Blackfin Pro, the nose pads on these glasses have a Hydra Light grip, and so the pads should remain stable on your face even if you're sweating or moving a lot.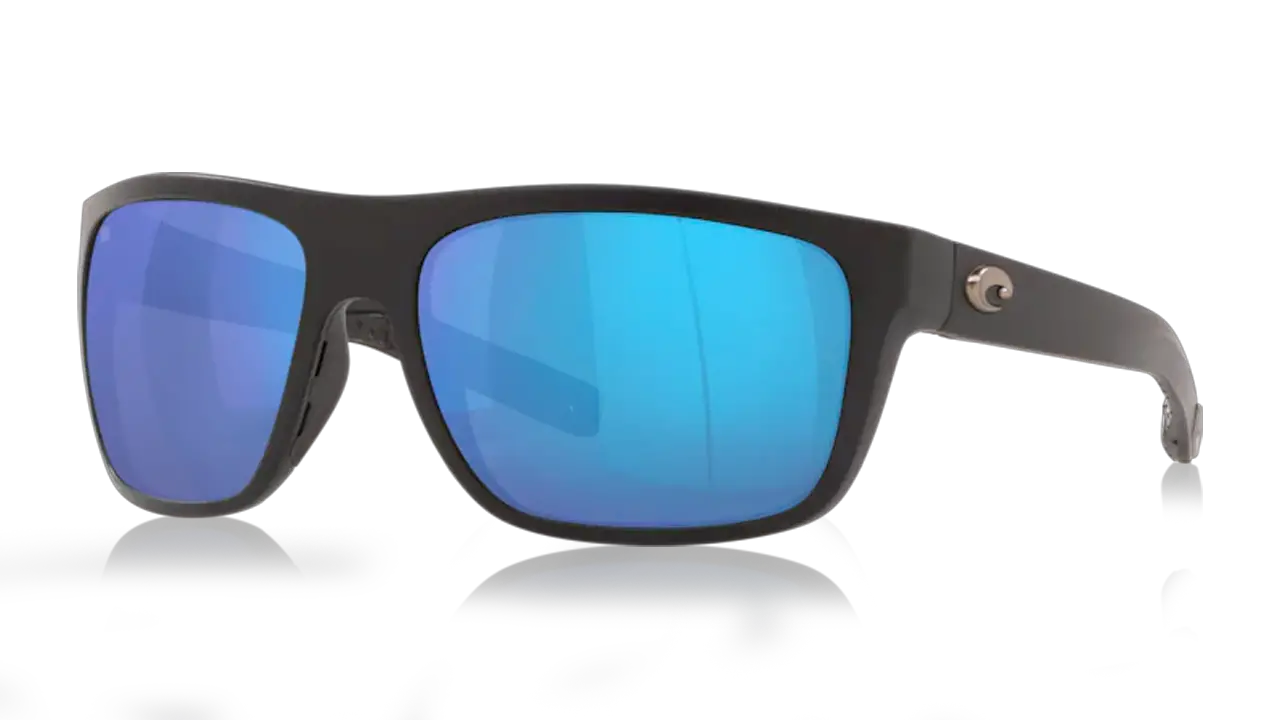 With these polarized glasses, Costa incorporated a loop retainer where you put the loop through a hole to enjoy a more secured feel. This way, you don't have to worry about your glasses falling off.
Pros
Flexible nose pads
Highly durable construction
Hat-compatible design
Cons
Not the most suitable for people with large heads
The Oakley Split Shot glasses are the best choice for offshore, nearshore, freshwater, and saltwater fishing trips. It'll solve all of your vision problems, and it flaunts a pretty stylish frame, so you can wear it on a lot of different occasions.
The split shot is composed of O Matter, which is a nylon-based proprietary frame material from Oakley. This material strikes an excellent balance between durability, versatility, and lightness.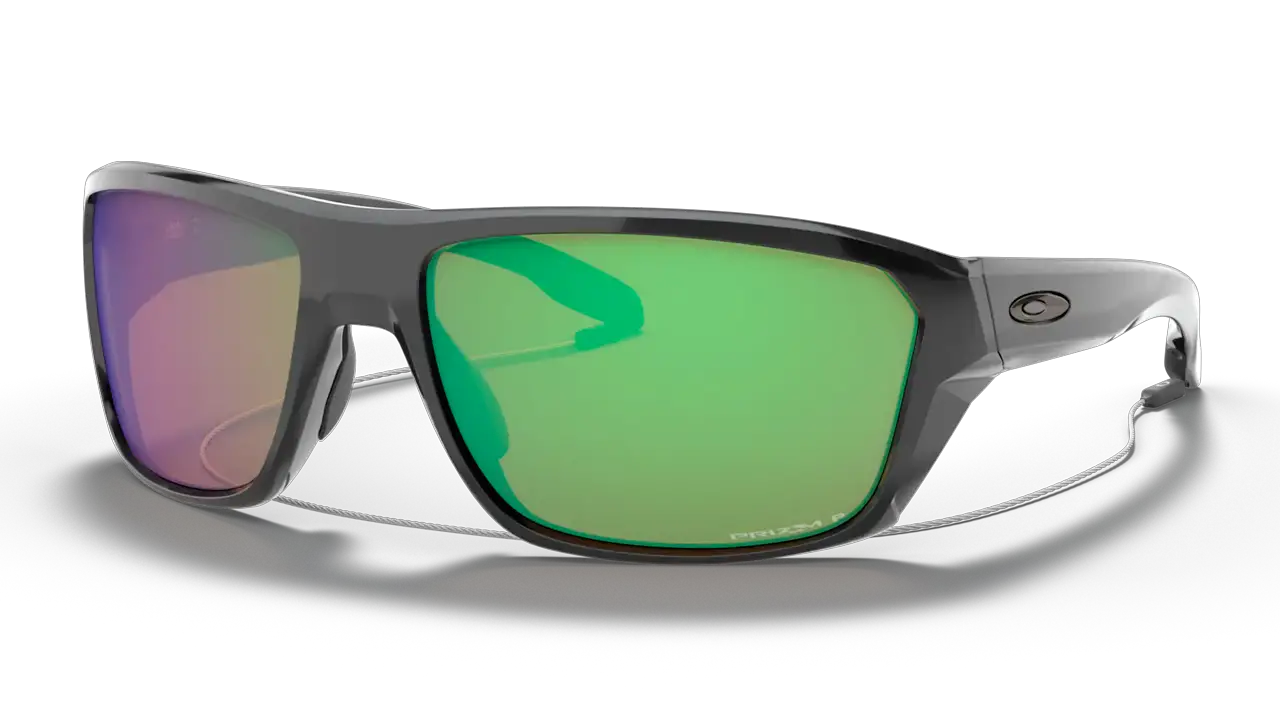 Plus, the glasses feature a nose pad material that gets stickier and tackier the more you sweat to keep the frame from sliding down your nose.
Pros
Lightweight and durable build
Hat-compatible design
It has integrated side shields to block out reflective glare

 

Removable 20-inch coated woven steel leash integrated into the frame

 
Cons
Not the best option for smaller heads
The Waterland Ashor sunglasses have a full-frame that offers excellent protection even from the sides. They're designed to be worn on and off the water. To add, the style of these sunglasses is pretty cool, and it's designed to fit small to large heads.  
The Ashor's hinge is incredibly sturdy. Moreover, the frame is durable and made of TR-90 Nylon material, a thermoplastic polymer that's lightweight and highly resistant to breakage. 
The Waterland Ashor sunglasses are also snug at the brow line, which is an entry point through which glare can reach your eyes.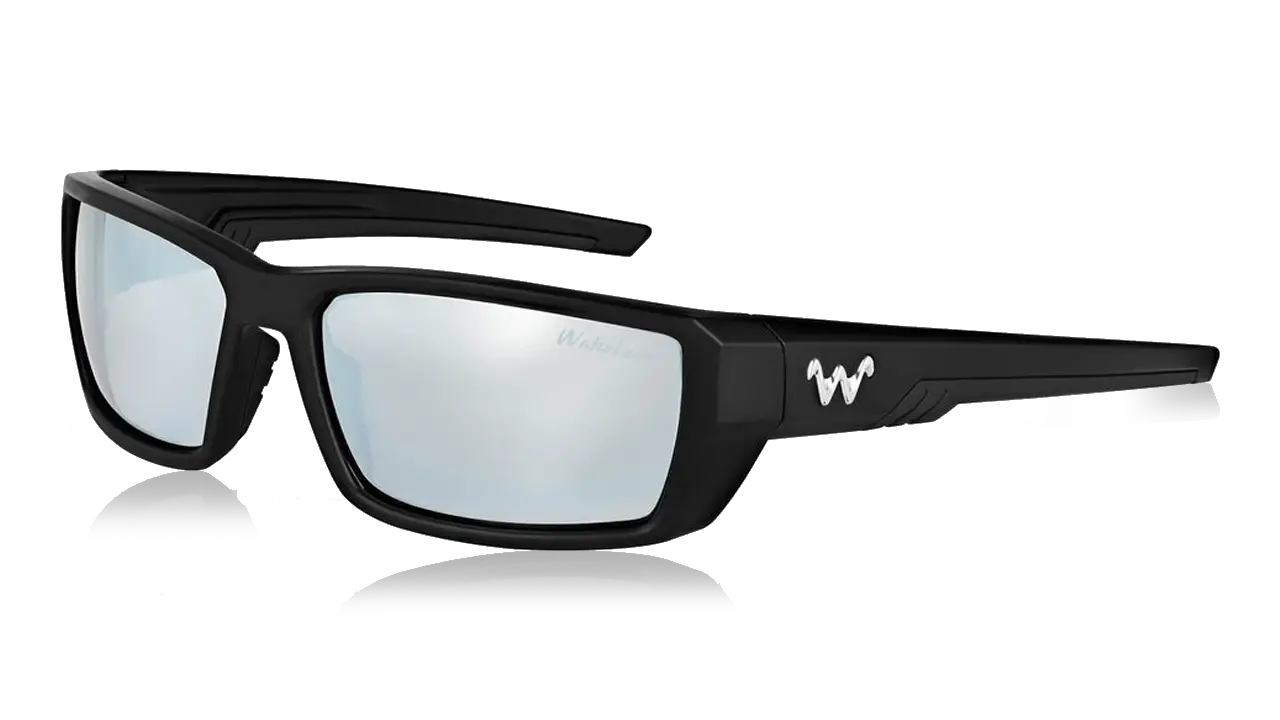 Pros
Budget-friendly compared to other glasses
Lightweight and durable construction
Comfortable and tacky nose pads
Snug at the brow line to eliminate glare
Suitable for all head sizes
Cons
Doesn't feature a leash system
Final Words
Fishing is one of the most enjoyable outdoor experiences. Sadly, a fun fishing trip can be ruined by glare, which is why every fisherman should carry a pair of high-quality polarized sunglasses. 
Polarized fishing sunglasses serve as a filter that cuts off horizontal light. This, in turn, improves your vision and prevents eye strain, headaches, and squinting. 
Additionally, polarized sunglasses enable you to see clearly into the water. This makes it easier for you to monitor your catch.
Some of the sunglasses featured in our post on the
best beach volleyball sunglasses
are also good choices for fishermen.
With the aid of the information shared in this post, you should be able to pinpoint the perfect pair of polarized sunglasses for your needs. 
All four glasses reviewed above are of the highest build quality and are guaranteed to enhance your fishing experience to the max. You can't go wrong with any of them.